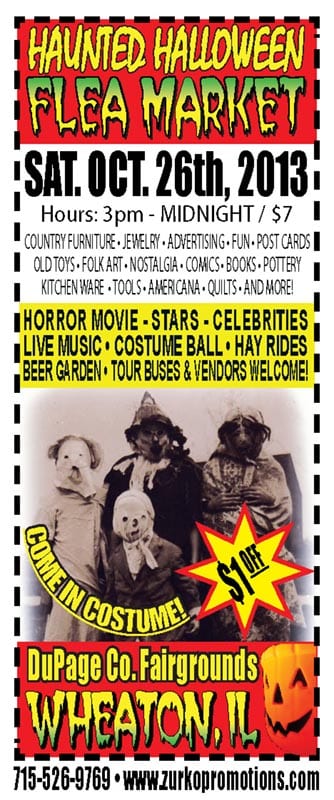 Annual Haunted Flea Market
Ghosts, Goblins, Celebrities, Music & More!
SATURDAY - October 26th 3pm to Midnight

WHEATON, ILLINOIS: Du Page County Fairgrounds, is where the "Haunted Fleas" will gather again for the Annual "Haunted Halloween Flea Market," Saturday October 26th, from 3pm to MIDNIGHT!

Zombies, ghosts, goblins & witches beware! Come in custom for the Goblins Ball (Live Music) and the Weird & Wonderful costume judging contest.

A special guest appearance by "DEEP ROY" who played Droopy McCool in Star Wars Episode VI: Return of the Jedi. He also played an Ewok on Endor and sometimes played R2-D2. In the 2005 film version of Charlie and the Chocolate Factory, he was digitally replicated to portray all the Oompa-Loompas. He also plays the alien Keenser in the 2009 film Star Trek. To sci-fi fans, he is best known for his role as Mr. Sin in the Doctor Who serial Talons of Weng-Chiang as well as the Posicarian delegate in the later serial Mindwarp. He is the only actor to appear in the Star Wars, Star Trek and Doctor Who franchises.

Nationally acclaimed ILLUSTRATOR Roger Stolz will also be on hand, plus more! The Midwest Garrison will be in costume!

There will be 1000's of haunted treasures for sale; as vendors will bring everything from Halloween Collectibles, Antiques, Bargains, Old Stuff, Close-outs, Crafts, and much more!

Vintage HEARSES will be on display, as this appears to be a "SPOOK-TACULAR" with fun for the WHOLE FAMILY! Bring flashlights, come in costume, hunt for bargains, dress warm as dealers will be indoors & outdoors, in sheds & open-air with tents. Event is held "Rain or Moon-Shine."

Show hours are 3pm to MIDNIGHT, kids 12 & under are FREE; located at the Du Page County Fairgrounds (County Farm & Manchester), in Wheaton Illinois on SATURDAY night October 26th.
Directions from Chicago:
Roosevelt Rd. W. to County. Farm Rd., turn N. to
Manchester, E. on Manchester 1/2 mi. to Fairgrounds.
Address:
DuPage County Fairgrounds
2015 W. Manchester
Wheaton, IL 60189