The Walking Dead is that rare thing – a show which gets better as it goes on.
Its fourth season drew to a close this year, and season five reached the half way point.
It broke with convention in 2014, an on-the-road year with a shifting focus and characters being kept apart for as long as possible.
Here are some of the reasons it kept us totally gripped.
The zombies

The show has always had a lot of fun with zombie special effects and elaborate deaths, but this was the first time we got to see a zombie head being utilised as a weapon, and a flaming zombie chowing down on some guy's face. It's been a strong year for the special effects team.
The humor
Perhaps to counteract the depressing storylines, 2014 was The Walking Dead's funniest year, thanks mainly to the inclusion of Eugene, a man singularly unsuited to the apocalypse and fully aware of that fact.
He manages to shoot their own truck to smithereens due to, in his own words: 'a fully amped-up state and an ignorance of rapid-firing weapons'.
He might be a compulsive liar and Peeping Tom, but, dammit, we like the guy.
The deaths
2014 was the year that the innocents died. All the young, optimistic characters were ruthlessly dispatched, from children Mika and Lizzie to the eternally bright-side Bob and innocent Beth.
Not to mention a whole load of Termites, but those deaths were usually met with a cheer.
Carol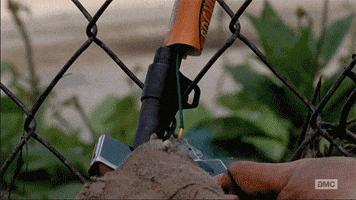 One woman army Carol was undoubtedly The Walking Dead's MVP in 2014.
She liberated a prison camp with only a sniper rifle, some fireworks and a poncho covered in zombie gloop, and continued to aid in Daryl's long process of self-help. I'm definitely Team Carol.
Terminus
Terminus loomed large over the latter half of season four, and their back story was dark and, crucially, believable.
A big theme this year on The Walking Dead has been that this post-apocalyptic world turns everyone into monsters eventually.
Carol, Rick, Beth and Abraham's stories all played into this theme, but it was the clearest in the Terminus storyline – a group of people who could only survive by becoming worse monsters than their oppressors.
It's a shame it was dispatched so quickly – season five struggled with an under-powered few episodes after the Termites were all killed.
All the hints
With Morgan lurking in end-credits scenes, hot on our heroes' trail, we know there's high drama to come. Lennie James is a fantastic actor and I can't wait to see him take his proper place in the show.
Fans of the comics are also looking out for Negan, a big villain who's due to show up any episode now. Looks like we'll have to wait until 2015 for that one…
~metro.co.uk/abigailchandler