Lifesize Zombie Valentine Card Latest Venture in Giant Card Market
Walking Dead fans may finally have a chance to show their Zombie love this Valentine's Day if a new card from BigFunnyCards.com takes off. The purveyor of giant greeting cards introduced their most outrageous card yet, a lifesize Valentine card in the shape of a disgusting, drooling zombie.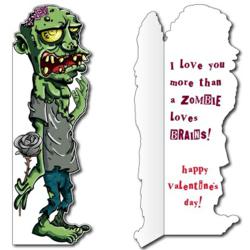 "When we thought the country was ready for a zombie-themed card, we felt our 4' tall size didn't get the job done, so we created a lifesize Zombie card complete with envelope," said Steve Grubbs, owner of BigFunnyCards.com.
The lifesize cards are digitally cut into the shape of the Zombie, but opens up into a Valentine card with the message, "I love you more than a Zombie loves brains!" Even more, the card comes with a giant envelope and a special stamp.
Zombie culture has gained steadily in the United States. Not only did the show, Walking Dead, score the highest ratings of any drama in cable history, but the most recent stats from Google show almost 26 million monthly searches for Zombie, just behind 'vampire' at 30 million.
The 'design-your-own' system at BigFunnyCards.com gives users the ability to customize the message inside the card and even gives the ability to upload a photo for the ultimate experience personalizing the card.
Of course if you want a card smaller than lifesize, BigFunnyCards.com also has smaller sizes, from 4' or as small as 2'. With eighteen different card categories, including Valentine's, the company is getting ready for its busiest time of the year.
"For some retailers, Christmas is their busiest time of year, but in the card industry, Valentine's is by far the biggest time," said Grubbs. "While we are small compared to Hallmark, we expect to sell more than $30,000 of giant greeting cards in a period of three weeks."
BigFunnyCards.com was founded in November of 2009 and has seen significant growth each subsequent year. In 2012, the company sold just under $200,000 of giant cards.
"We may not be the biggest greeting card company in the world, but we do sell the biggest greeting cards in the world, and we can be happy with that," concluded Grubbs.