'WORLD WAR Z" TEASER TRAILER!!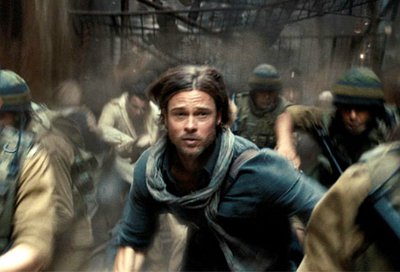 Counting down to the release of the first trailer of "World War Z", ET Online unleashes a very first glimpse of the zombie war movie. Presented in form of a teaser, the footage boasts apocalyptic scenes as Brad Pitt embarks on a big battle against a host of undead creatures that occupy the city. At the same time, he also struggles to save his on-screen daughter from the zombie attack.

In "World War Z", Pitt tackles the part of Gerry Lane, a United Nation employee who traverses the world in a race against time to stop the Zombie pandemic that is toppling armies and governments and threatening to decimate humanity itself. The story is based on Max Brook's horror novel "World War Z: an Oral History of the Zombie War".

The full trailer of the movie will arrive on Thursday, November 8 on ET. The movie itself will hit the U.S. cinemas on June 21, 2013 after being pushed back from its original release date of this coming December. Marc Forster serves as the director and Damon Lindelof rewrites the original script from Matthew Michael Carnahan and J. Michael Straczynski.

In addition to Pitt, the long-gestating film is supported by Mireille Enos, James Badge Dale, Julia Levy-Boeken, Elyes Gabel and David Morse.